William and Joyce Wartmann Edgerton Endowment for the Performing Arts
In September of 2003 William and Joyce Wartmann's contribution established an endowment that will be held in perpetuity by the School District of Edgerton. Since 2002, the Wartmann's and the school district have been working together to establish the endowment, which will provide the community with affordable performances.
Dr. Norman L. Fjelstad appointed a committee whose responsibility is to determine the appropriate use of the annual distributions from the endowment. The committee, known as the WEpac Board (Wartmann Endowment for the performing arts Board). Current board members of WEpac are: Kirsten Almo (Secretary), Cathe Engler, Diane Everson, Ron Hagemann (President), Elizabeth Hudson, Dr. Amy Horn-Delzer (Vice President), Ellen Knutson (Treasurer), Alan Lemke, Tom Livick, Dr. Dennis Pauli (Chairperson), Jim Raymond, Gary Smith (Education & Fundraising Coordinator), Connie Tronnes, Paul M. Tropp (EPAC Director), Deb Wolniak.
WEpac has adopted the following for their Mission Statement:
"The WEpac Board strives to provide a diverse selection of quality, affordable entertainment to the Edgerton Community".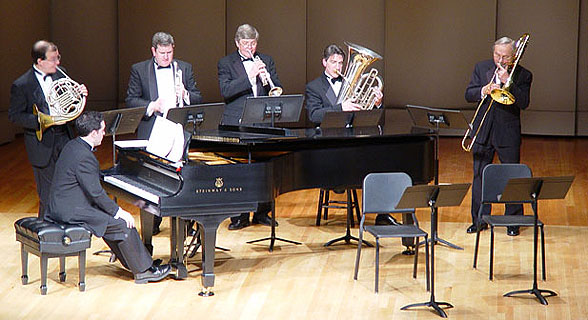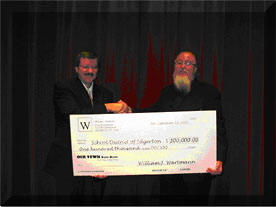 William Wartmann presents a check to Dr. Norman L. Fjelstad, Superintendent of the School District of Edgerton.
On Friday, January 30, 2004 the endowment was kicked off with a sold out performance of the "Chicago Brass Quintet" with Concert Pianist Bradley Haag.
The evenings music included a variety of genre:
Allegro*: Antonio Vivaldi

The Music of Bach: Johann Sebastian Bach
Chorale: arr. Samuel Adler

Bouree: arr. James Mattern

Sonatine: arr. Jan Bach

Fugue: arr. Irving Rosenthal
Old American Songs* : Arron Copland
Simple Gifts

The Dodger

At The River

Ching A Ring Chaw
Excursions: Samuel Barber
Un Poco Allegro Bradley Haag

Slow Blues Tempo

Allegro Molto
Dancing to Restore an Eclipsed Moon: Eric Ewazen
From Shadowcatcher

Intermission
Swing Low**: Traditional

Suite for French Horn Tuba & Piano: Alec Wilder
In a Jazzy Style.

Berceuse

Hoe-Down
Four Rags*: Scott Joplin
The Entertainer

Maple Leaf Rag

When Your Hair Is Like The Snow

Pineapple Rag
Stars and Stripes Forever*: John Phillip Sousa